Avira
Introduction
With over 10 million users worldwide, Avira has become one of the most popular and well-known antivirus software in the world. Although Avira antivirus wasn't released until 2006, Avira Operations has been developing its software for over thirty years, making the multinational company, headquartered in Germany, a grandfather of the industry. With the emergence of the digital age, the importance of protecting the average internet-user is greater than ever. This is obviously the view that Avira holds, as it continues to upgrade its software year after year. Avira has begun to offer feature-rich packages capable of meeting the ever-increasing needs of modern internet-users, all while providing the same trusted protection that has built the company the huge customer-base they possess today.
Let's take a closer look at what Avira offers its users.
Protection
Avira's software has its downsides, but security is not one of them. Avira has some of the best protection on the market. The software consistently performs well in Lab-tests and has won too many awards to list here and now. Some of the security featured offered here include:
✓Real Time Malware Scanning: Avira's software constantly scans your system in real time and checks everything against a huge database of potential threats, detecting and removing viruses, malware and trojans.
✓Protection from Fake/Infected Websites: "Phishing" is a scam in which attackers trick you into entering sensitive information by creating fake website. Avira's software automatically detects and blocks these websites, allowing you to safely shop and bank online.
✓Home Network Security: This feature scans and monitors all connected devices and offers solutions to any vulnerabilities found.
✓Automatic Updates: No manual update requirement means that you'll never fall behind or become vulnerable.
Compatibility
✓Windows
✓Mac
✓Android
✓iOS
Pricing:
Avira offers three distinct packages or "suites" for users to choose from. Let's compare the features offered in each of these.
•Avira Antivirus Pro
With the antivirus market so crowded, companies need to offer exceptional features to go along their base protection. And in the "Avira Antivirus Pro" package, Avira has done just that. For €27.95, this is an affordable pro antivirus with all the essential protection and plenty of useful features to go on top.
✓Ad Blocker: Prevents annoying and potentially dangerous ads.
✓Privacy Safeguard: Avira's Privacy Safeguard feature gives you access to your privacy status at any time, allowing you to quickly fix privacy errors you might otherwise not be aware of.
✓Device Control: Scans removable devices–such as external hard drives, flash drives, smartphones, digital cameras and streaming sticks—for malicious software.
✓Smart Technologies: Gives you access to unique "Artificial Intelligence" algorithms, "Repair Technology" that mends damage done by any malicious programs, and "Self-Defense" which prevents attackers from disabling your antivirus.
•Avira Optimization Suite
As its name suggests, this package is centered around the added ability to optimize your PC. Available for € 35.95, the Avira Optimization Suite is the perfect product for anybody looking to boost their system as well as protect it. Although it must be noted, Avira's software has been criticized for adding files to your computer, which can take up valuable space and lag your system. Whether the added features in this package are needed just to counteract those effects—forget about getting ahead—is another question entirely.
✓All "Pro" Features
✓Boosts Battery Life: Shuts down unnecessary services that drain your battery.
✓File Encryption: Allows you to protect your most important files.
✓Data Privacy: Cleans your surf history, web caches and cookies.
•Avira Total Security Suite
This package includes everything Avira has to offer. At €67.95, the package is a bit pricey. It does, however, provide some important features.
✓All "Optimization Suite" features.
✓Identity Theft Protection: This program actively scans the "dark web" for your information, mitigating the risks of identity theft and other fraud.
✓VPN: Allows you to search the internet privately, bypassing geo-restrictions while also protecting you from insecure Wi-fi sources.
✓Multiple Devices: Available for all major systems, Windows, Mac, Android, iOS.
✓Failsafe: Blocks internet traffic if VPN drops out.
Value
Overall, Avira offers great protection and an abundance of features at affordable prices. The only negative is that you're required to pay for the most expensive package in order to gain VPN access.
Technical Support
Avira offers its customers support in the form of Email and telephone. The support team is generally well reviewed, although the company suffers in the same ways as some of its competitors. Customers complain of long wait times when attempting to get help via telephone. However, Avira possesses a wealth of tutorials and FAQ's on their website. We would suggest using those before reaching out to a representative.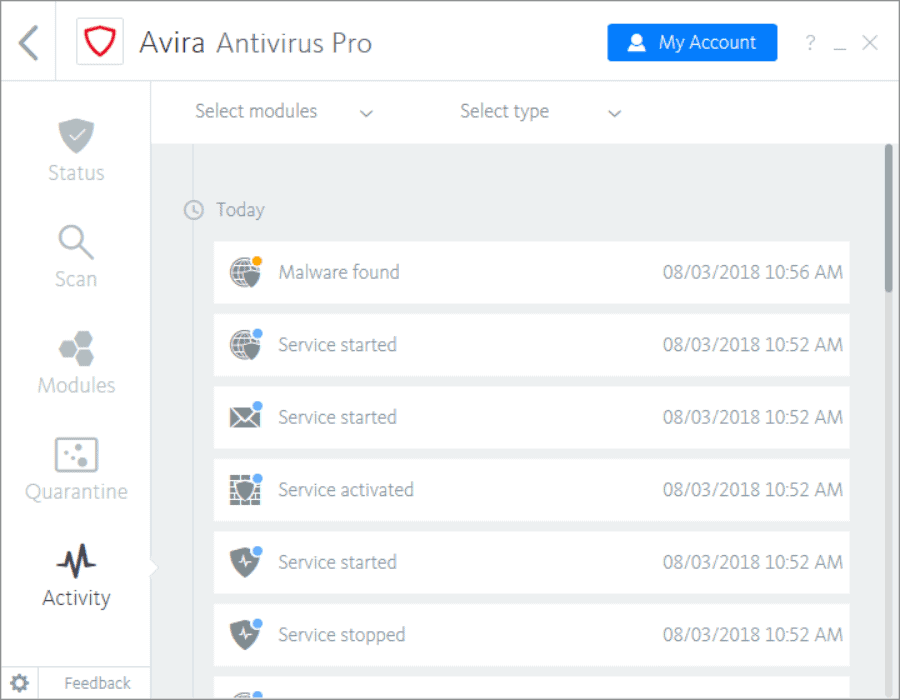 Downsides
•Virus Definition Files: Users have complained about these large files taking up significant portions of storage space and bringing the overall speed of their system down. The size of these files, however, is one of the factors which allow Avira to maintain the same level of undoubtable reliability that their software is known for.
•VPN Only Available with the "Total Security" Package: If surfing the web anonymously is important to you, and you're on a budget, you might be forced to look elsewhere.
•Device Control Can Be Overly Sensitive: Avira's Device Control feature can sometime be too aggressive, not allowing you to access safe external devices.
Conclusion
Avira is an immensely popular antivirus software, trusted by millions and developed by industry innovators. The software offered has been shown to be extremely secure, passing several independent lab-tests. And while Avira is sometimes criticized for having a negative impact on your system, that impact hasn't been shown to be significant. If system-speed is the all-important factor in your decision making, you might want to seek a lighter antivirus. Aside from this, Avira is as close to flawless as any software can be.
If you're looking for an antivirus with exceedingly reliable protection, extra features, and a reasonable price-tag, you could do a lot worse than any of these three packages. With Avira, you'll be getting award winning software with few significant downsides.