Introduction
MacKeeper was developed by Kromtech, a name new in the security scene. The developers might not have the same amount of experience as other more experienced security firms, but their flagship Mackeeper software has been top-notch so far. Kromtech believes that they have developed a game-changer when it comes to security software.
The company is also known for its stellar tech support catered specifically to Mac users to help customers protect, secure and optimize their devices. Mac OS and Mac OSX are known to the quite secure compared to Android but there has been an increase in malware that is detected on the platform on a daily basis. Mackeeper is designed to help macOS users keep their devices secured from emerging as well as known security threats.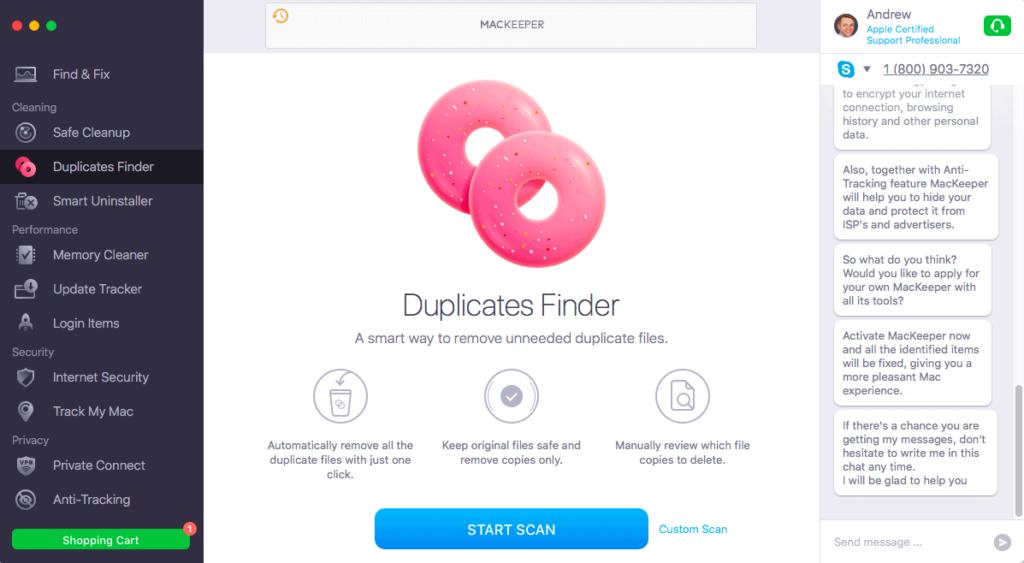 Protection
Antivirus: The current version of MacKeeper comes with an antivirus that is designed not only for macOS users but it also includes Windows malware as well. While macOS might be safe from Windows threats, if you share files with other platforms, you may be a source of malware and MacKeeper curbs such instances.
Quarantine: One of the best things about MacKeeper is that it does not automatically delete any malware. Instead, it safely prevents any identified threats from accessing your information and puts it in a quarantine zone. It is up to the users to take the final decision on removing the malware. It prevents instances of false positives which is quite common.
Automatic Updates: With new malware being discovered almost every hour, MacKeeper is designed to keep users secured from the latest threats. Your virus definitions are automatically updated whenever your macOS device is on. You do not need to do anything to manually enable automated updates as MacKeeper manages all updates on its own without restricting bandwidth or slowing down the system.
Malware Detection: MacOS is known for its stellar security and instances of malware are quite rare. However, this does not mean that you can take it easy when using a macOS device. MacKeeper searches for the rarest of malware by taking advantage of its constantly updated definition lists. The software is certified to take care of all your security needs and keep you safe from malware.
Safe Cleanup Tools: One of the issues that arise when installing and uninstalling apps is that leftover files sometimes stay behind. These files can be exploited for malicious reasons and MacKeeper is designed to keep you safe from any such attacks. The safe cleanup tools included with MacKeeper automatically scan for any redundant files that can be safely removed from your system.
Theft Tracker: MacKeeper comes with a theft tracker feature that lets you track stolen devices. You simply need to have MacKeeper installed on the stolen device and you will be able to track its location as long as it is connected to the internet.
Compatibility
Mac OS X 10.8 – macOS 10.14
Pricing
There are four major tiers of plans available to all MacKeeper users. There are no significant differences between the three except for the duration. However, the longest duration plans are the most value for money if you plan on using antivirus solutions for an extended period of time.
Basic :
The basic plan is your barebones one-month plan. Like the company advertises, it is your gateway to using MacKeeper if you want to try it out for a month before deciding if you want to invest in it long-term. The plan offers all of the features you would get from any other plan, except that it is not very economical if you want to keep going ahead with the subscription.
Standard :
The Standard plan is a great starting point for users who are invested in the macOS ecosystem and want to try out an antivirus for an extended period of time. Standard users have access to the same quality of technical support as members of more expensive tiers.
Premium :
If you want value for money subscription plans, there are very few antivirus solutions out there that offer the same quality as MacKeeper's premium plan. You can expect your issues to be addressed immediately in case you are facing any issues with the software. All of this is in addition to the standard suite of features you get with every tier.
Apple Certified Support Professional
Premium+ :
The Premium Plus membership is the most cost-effective plan available for users who want to invest in an antivirus long-term. With a price of less than $5 a month, the plan is just unbeatable. The suite of features you get combined with the pricing makes this one of the best antivirus plans available right now.
Personal assistance from Apple Certified Professionals
Email Phishing Protection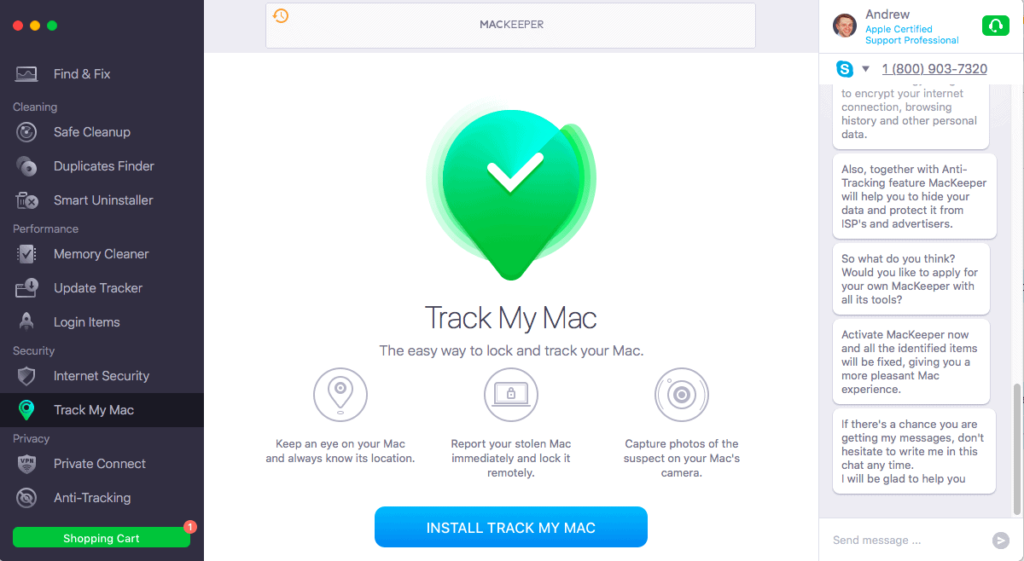 Downsides
No Family Settings: MacKeeper's family settings are not as robust. However, you can set admin controls on the software to prevent other users on a shared computer from tampering with your settings. For enterprise and business users it is not an issue at all as there are more than enough controls available to users to prevent any software tampering.
Windows Malware Handling: MacOS malware is detected by the app fairly easily but the Windows malware handling on the software is not perfect. While it should not affect macOS users at all, if you share files frequently with Windows users, it can be a bit of a problem for them if they don't have appropriate malware protection.
Conclusion
If you are looking for a reliable antivirus for your macOS system, MacKeeper is definitely one of the most viable antivirus programs to go for. While it might not have the years of experience in the security scene behind it like other brands, it definitely does more than enough to warrant a shot. The suite of features on offer is unbeatable for the price and should definitely be considered by macOS users. The long-term plans offer the most value for money and you will definitely love what the software has to offer in terms of protecting your data from malware, phishing, and other malicious programs.