Trend Micro
Antivirus software was originally developed to detect and remove viruses on computers. However, many security features and clean up systems have been added to these programs to optimize computer speed and protect your data from malware & spyware attacks.
Having antivirus software is especially important for companies that work on computers daily. Because most sensitive information has now become digitalized, this information can be compromised by cyber hackers. These companies need added security to protect sensitive information from cyber attacks.
So is there a powerful antivirus you can use for your computer? Perhaps Trend Micro can help you optimize your cybersecurity and keep you safe from hackers and other harmful computer viruses.
If you want to know more about how Trend Micro can help keep your digital files safe, take a look at the short review below. You'll find many beneficial security features that will put extensive protection on your digital devices.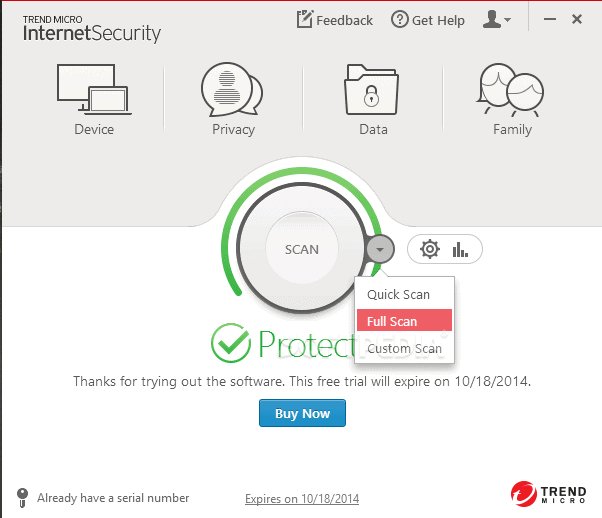 Trend Micro Overview
Trend Micro Inc, also known as Torendo Maikuro Kabushiki Gaisha, is a cybersecurity development company situated in Tokyo, Japan. The company also have offices in North America, Asia and Europe. The Trend Micro company provide heavy-duty cybersecurity to companies such as Amazon AWS, Microsoft Azure and even Google Cloud platforms.
In June 2008 the developers of Trend Micro introduced Trend Micro Smart Protection Network which is a cloud-based security program to protect customers from online threats.
In 2012, the Trend Micro company introduced Big Data Analytics which is a behavioral-based identification system to find and identify cybersecurity threats. This helps the company develop new security software updates to protect digital data more effectively.
Trend Micro receives all their premium threat intelligence from TrendLab which is the company's development, research and support team. The TrendLab team provides heavy malware forensics and data analysis to optimize their software.
In 2018 Trend Micro teamed up with Panasonic to construct security systems for electronic applications in cars. The company also released a feature that identifies handwriting styles to fight against fraud on email systems.
Product Review
Trend Micro Security Features
The Trend Micro antivirus has extensive security features that allow you to stay one step ahead of malware attacks at all times. I did a few tests on the system and it proved to work better than any antivirus I've used in the past.
Trend Micro's Antivirus Plus runs a complete scan through all your computer files and if the software detects malware it deletes these threats immediately. I installed some malware on my device to test the program and it eradicated all of the threats, leaving nothing behind.
One feature you'll find beneficial is the heuristic scan. What this feature does is studies all your programs to see how they behave or function. If the programs start performing activities out of the ordinary, the heuristic scan will detect it immediately and run a scan over the program.
The heuristics scan will pull out any hidden malware and upload the detection on the Trend Micro cloud so the cybersecurity forensics team can study it. This helps the developers to keep their security features up to date according to any new threats that are created in the cyber industry.
Compatibility
The Trend Micro antivirus software is compatible with any digital device such as Mac, Android and iOS devices. It's also compatible with browsing programs such as Google Chrome, Firefox, Internet Explorer, Safari and Opera.
One feature I liked about the Trend Micro antivirus is that it has a browser extension that tells you if a site is trusted or not. There is a dot that appears when you're browsing the web that will turn green when the site is trusted and red to warn you to leave the webpage as it's not safe to surf.
Is it Easy to Set Up Trend Micro Antivirus?
When you set up the Trend Micro antivirus software you'll find that it's extremely easy to install. The interface is straightforward with minimum buttons and menus. Installation of the Trend Micro antivirus takes about 10 minutes.
After you install the software it will perform a full scan and system check. You'll be able to check for any threats by viewing the Trend Micro status bar. Overall the Trend Micro was effortless to install and the features are easy to find.
Trend Micro Pricing
You will receive the Trend Micro Plus antivirus software and Internet Security all in your one-year package system that will cost you $29.95. For the two year subscription, it will cost you $48.95.
If you opt for the Internet Security package you're able to install the program on up to three devices simultaneously.
Trend Micro Features
Antivirus
The Trend Micro antivirus is the most powerful software in the world, protecting over 250 million users worldwide. Trend Micro's antivirus software protects you from phishing scams, malware attacks, spyware systems and even ransomware.
You can also customize your scans by running a feature called Folder Shield on any file you want to check. The Trend Micro will thoroughly check the files you've clicked on and weed out any viruses hidden in the folder.
The antivirus will also detect when files have been encrypted without your permission. It will immediately back up the files and stop the encryption process.
Digital Cleaner
Sometimes when you delete files, some information is still stored on your device even after they're removed from the recycle bin. This can take up space on your device and hackers can access this information.
To solve this problem, use the Trend Micro Secure Eraser feature that's a digital shredder to ensure permanent removal when you delete files from your recycle bin.
Memory Cleaner
Sometimes you'll have programs on your devices that you don't use or may be out of date. These programs or files can take up space on your device. To remove these files you can perform a system clean up that deletes programs you don't use to expand your digital capacity.
This allows your device to start up faster and your overall computer performance will be optimized.
Updates
As mentioned previously, the antivirus stores any virus or malware onto the system's cloud program so the Trend Micro team can study them to develop better security for users. Your antivirus program will automatically update with the latest cybersecurity features so your device can stay protected.
Main Features
The Trend Micro antivirus offers intense security features that protect your device from any cyber-attacks. It's a trusted antivirus program that will speed up your device's performance while scanning and removing cyber threats from your device quickly and easily.
Includes advanced AI learning technology
Secures your online banking with SafeGuard
Protects against ransomware
Excellent customer support
Pros
Easy to install
Includes parental lock
Trusted developers
Flexible antivirus
Cons
No email safeguard feature
Automatic subscription renewals
Final Thoughts
The Trend Micro developers know the importance of cybersecurity and that's why they are constantly finding new ways to protect their users from cyber attacks.
So, if you're looking for a premium antivirus software then Trend Micro is the program you need. It's easy to install and it allows you to customize your scans which is a feature that's highly beneficial.
Keep your data safe and opt for one of the Trend Micro subscriptions. Once you've installed the program you'll be able to use your device without the risk of cyber attacks.