Total AV
Total AV have made a giant splash in the antivirus market recently. This fairly new company offers a powerful, easy to use software that has a relatively small impact on the speed of your system. Total AV provides a truly modern antivirus software able to keep up with the growing dominance of mobile devices. Whether you need to protect a smart-phone, tablet, PC, or any combination thereof, Total AV has you covered. They offer affordable plans, compatible with all the major operating systems. Whatever your needs, Total AV can rarely be beaten on price or ease of use.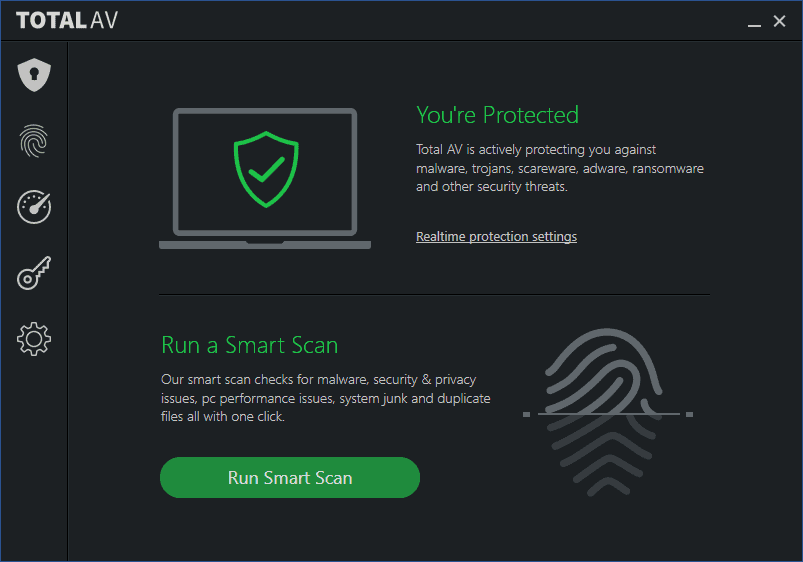 Protection
Total AV monitors in real-time, checking all downloads, links, and executables as you access them. The protection offered is nothing short of great, if only for the fact that it doesn't slow down your system. Total AV is, however, a relatively young company, and their reliability has yet to be proven in independent lab-tests. Despite this, their software is trusted by millions of users, and is generally very well reviewed. Let's look at some of their security features.
Safe-Site
Safe-Site protects you from phishing—fake webpages designed to steal your information—allowing you to search the web in peace.
Anti-Malware
A sophisticated engine detects and removes malicious software, protecting you from infections and viruses.
Email Protection
Total AV's comprehensive software guards your email from attacks and leaked information.
Identity Protection
Identity Protection from Experian gives you peace of mind when shopping-online or entering sensitive information.
Firewall
A strong barrier, protecting your system from untrusted outside networks.
Password Manager
Easily manage all your passwords in one safe and secure place.
Compatibility
Total AV really excels when it comes to compatibility. There's plenty of software on the market that offers availability for smartphone and tablets, but few cater to them the way Total AV does. No matter what device or system you're using, you can expect a ton of features that are simple and user friendly. The best part is that Total AV allows you to protect multiple devices of different types without raising the price quite as much as their competitors.
Windows Compatible
Mac Compatible
Android Compatible
ipad/ipod Compatible
Pricing
Total AV offers three antivirus packages, "Essential", "Pro" and "Ultimate". The main differences between these packages is the number of devices they allow you to protect. The disparity in features really isn't that great, and all three are quite affordable; depending on your needs, there's no bad choice here.
Value
Total AV has some of the lowest prices on the market, giving it great value for such a widely used and highly reviewed software. However, there have been concerns about Total AV's confusing billing practices. Many customers have complained about being overcharged. Be careful to read over the fine print to make sure you're not signing up for any unwanted ad-ons or auto-renewal.
Customer Support
Total AV receives rave reviews for their customer service. While not perfect, it's clear that their support team is a cut above the competition. It's possible to contact them via email or phone, but the Live-chat feature is the fastest and easiest way to get answers to any question you might have. Their website is also loaded with FAQ's and other useful information. Additionally, if you purchase the "Complete Antivirus" package, you'll have "priority support", meaning that your queries are taken before those of regular customers.
Additional Features
VPN: Allows you to search the internet safely and anonymously.
Auto/Scheduled Scans: Manually scan for viruses anytime, or simply sit back and let the auto scan do the work for you.
System Boost: Total AV's System Boost raises your computer to peak performance by stopping unnecessary programs from starting up, as well as deleting obsolete files.
30-day money back guarantee: If you're unhappy with the product, Total AV will issue a full, no hassle refund.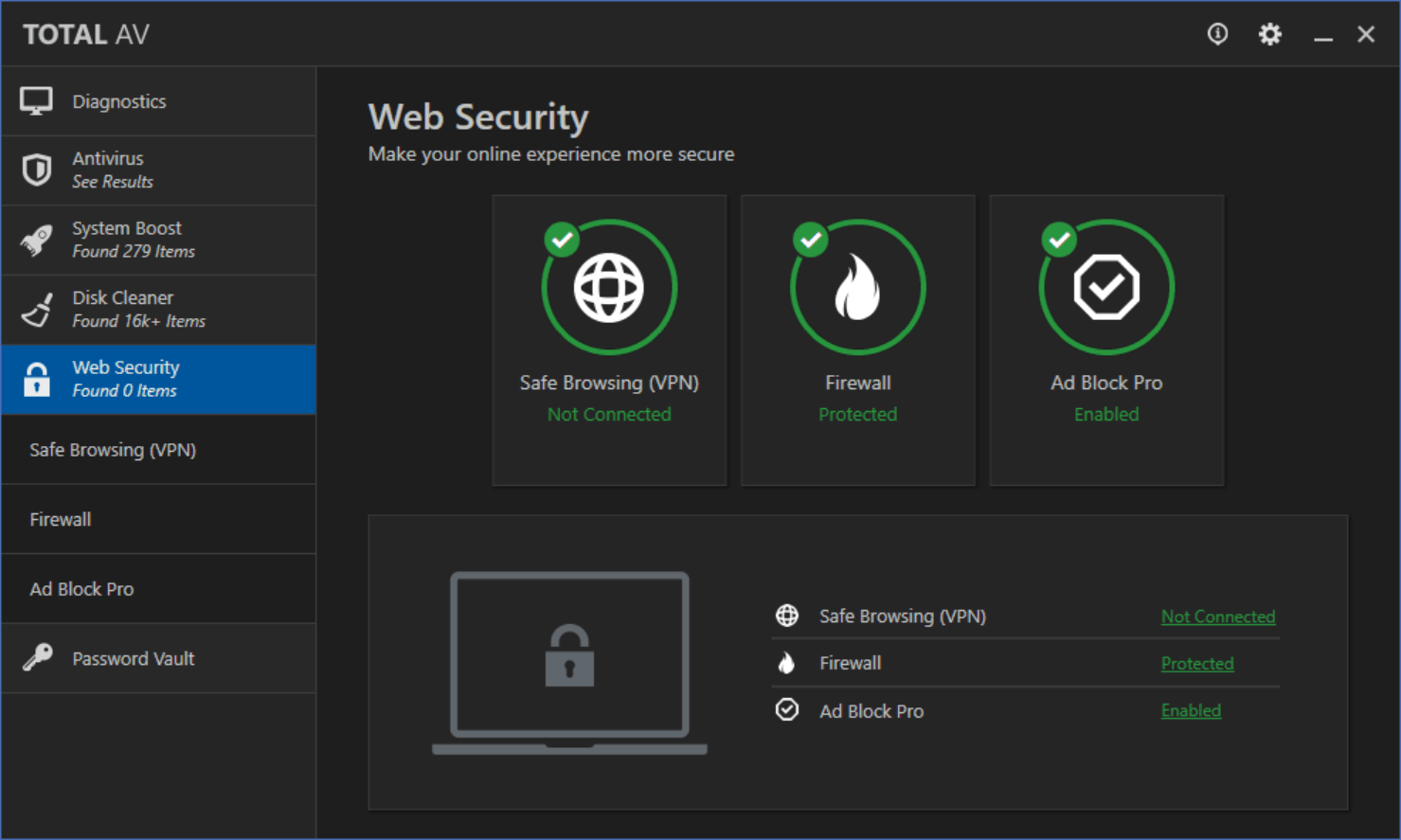 Downsides
Slow Installation Speed: Compared with its competitors, the software takes quite a long time to install.
Slow Scans: Even the "quick scan" takes upwards of 15 minutes.
Pop-ups: Unfortunately, Total AV's software suffers from annoying pop-ups during the scanning process.
Lack of independent Lab-Tests: Total AV lacks the proven results of other long-running software companies.
Confusing Billing Practices: Total AV has been accused of misleading customers and hitting them with extra charges.
Conclusion
Total AV is a very popular company that provides easy to use antivirus software at a very affordable price. If you get impatient with long scan times and annoying pop-ups, or if you're hesitant to put your security in the hands of a new company, then Total AV might not be for you. If, however, you're looking for a trusted, capable antivirus that won't have a negative effect on your system's performance, look no further. The biggest issue with the company is the misleading charges, but if you're careful not to sign up for anything unwanted, then it's hard to beat Total AV's numerous user-friendly features, great compatibility, and industry leading customer-service.