MacKeeper
In today's modern world, people use their phones, laptops and computers to perform many tasks. These tasks include online shopping, banking and tax related activities. This means your digital devices have a lot of sensitive data stored on them, namely banking details and national security numbers.
The sensitive data stored on your digital devices can attract criminal activity and so computer antiviruses were developed. Antivirus software is designed to detect malware and spyware on your digital device and eradicate them so your sensitive data isn't compromised.
So what antivirus software is the best on the market at the moment? MacKeeper is a reputable antivirus software with many beneficial features to keep your data safe. To find out more about the MacKeeper antivirus software, take a look at the short product review below.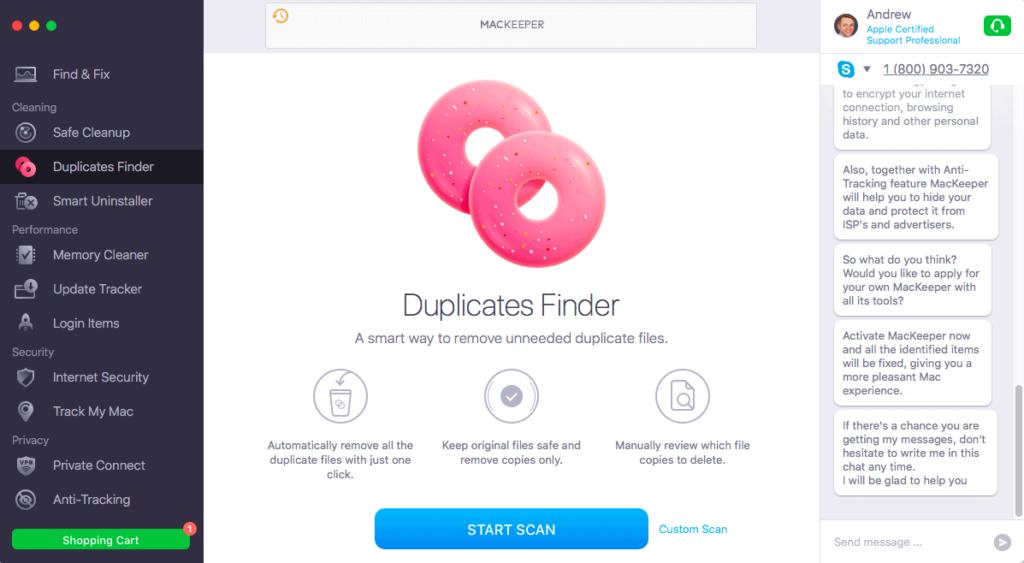 MacKeeper Overview
MacKeeper was originally developed by Zeobit in 2009 but in April 2013 the developers sold the software to Kromtech-Alliance.
The beta version of MacKeeper antivirus software was released on the May 13th, 2010. Since then the software has been updated numerous times with beneficial features to optimize computer security. Now the software offers data control and cleaning optimization as well as a human expert feature.
MacKeeper developers designed the antivirus software to change the way users utilize their Mac PCs. Even though Apple products have extensive security features these devices can still be attacked by hackers. That's why the developers are constantly improving the MacKeeper antivirus software to bring users the best in cybersecurity.
Product Review
MacKeeper Security Features
The MacKeeper software has some added security features with the latest version of the program. This software has a Track My Mac feature to help you find your laptop if the device goes missing or is stolen.
The software will give you the exact location of your Mac laptop and will even use the camera on the application to take pictures of its surrounding area! If your laptop was stolen the camera will take a picture of the suspect's face so you can find the perpetrator.
This security feature allows you to take remote control of your laptop so you can shut it down to avoid further invasion. You can perform the remote control through the MacKeeper mobile app.
Compatibility
The MacKeeper antivirus was developed for Apple products so it's not compatible with Android or standard computer devices.
Is It Easy to Set Up MacKeeper Antivirus?
Installing the MacKeeper antivirus is easy and only takes a few clicks to get started. Simply download the package you want from the MacKeeper website and follow the prompts.
Before you get started, the MacKeeper will do a quick scan and system clean-up. Subsequently, you can find all the functions you need to optimize your computer's security as the display is easy to browse through.
MacKeeper Features
Antivirus
Apple products have the highest security features available but that doesn't mean these applications are safe from cyber threats. That's why the MacKeeper antivirus does regular scans and quickly detects phishing, malware & viruses and eliminates them before your data can be compromised.
MacKeeper antivirus gives you the option to scan specific files and programs for potential threats. The software will remove any threats found fast to protect your data.
Adware Cleaner
Visiting websites can be frustrating sometimes because of all the ads that pop up when you're browsing. Adware can also slow down your PC and can be difficult to remove. MacKeeper isn't an ad-blocker software but the program can eradicate adware that's been loaded onto your PC through other installed apps.
Memory Cleaner
Sometimes when you have many apps running in the background of your laptop or smartphone, they can slow down the device's functions. The MacKeeper memory cleaner closes the apps you're not using to speed up your devices processes.
Cleanup Tools
The cleanup tool in the MacKeeper software rids your device of any files that aren't needed. Sometimes these files take up unnecessary space so the program removes these files to create more memory.
However, it should be noted that this function might compromise some important files so it's best to customize your cleanups or perform the task manually without the cleanup tool. This will ensure that the files you want to keep aren't deleted.
Updates
No matter what package you opt for on the MacKeeper website, you'll receive regular security updates. Your program will update whenever there are new features added so your device will stay secure at all times.
Main Features
The MacKeeper antivirus software is a reputable Mac utility program that optimizes your device's speed and cybersecurity.
Virus and malware protection
24/7 customer support
Instant device cleanup
Optimizes disc space
Pros
Easy to install
Scans devices regularly
Comes with regular updates
Increases Device performance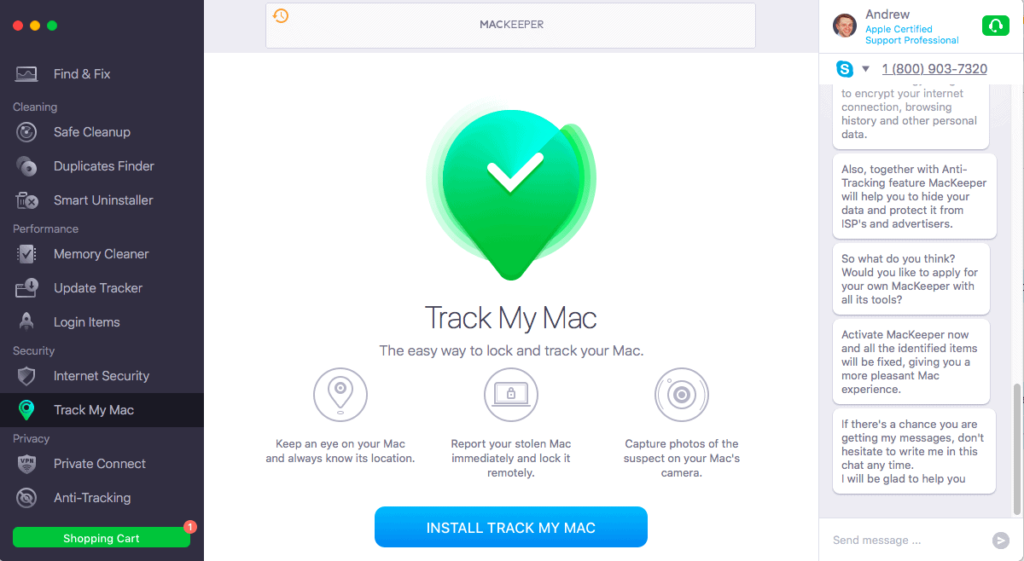 Cons
Clean up feature may delete important files
Might experience unwanted pop-ups
Final Words
Fundamentally, MacKeeper is a utility for Apple computers that was designed to protect applications from malware attacks and speed up computer programming. MacKeeper software was developed to add extra precautions on Mac devices, so you're always protected from cyber theft.
The new developers of MacKeeper have worked on many features on the program to improve the software. This is so your MacKeeper antivirus doesn't bombard you with unwanted advertising and doesn't slow down your PC's processes.
If you want to shop online safely, store sensitive data on your device or simply clean up unnecessary files, opt for MacKeeper. It's easy to install and navigate through so you can customize the scanning process and speed up your computer's performance.