Intego PC
Intego antivirus uses the latest technology in behavior analysis and Malware detection. The Antivirus software is designed to protect your system from Malware, Spyware, Adware, Ransomware, and other threats – before they attack.
On the other hand, Intego was a Mac antivirus software specifically designed for Apple laptops because of the extensive protection these devices need. In the past, Mac antivirus service providers were in the lead in terms of their security features. But now the award-winning antivirus for Mac is available for Windows.
We understand that time is your greatest resource, so Intego created a fast, high-performance product that won't slow your PC down.
In today's article, we'll be giving you an overview of what the Intego PC antivirus can do for you. Now you can enjoy faster and smarter security, trusted by millions of users around the world since 1997.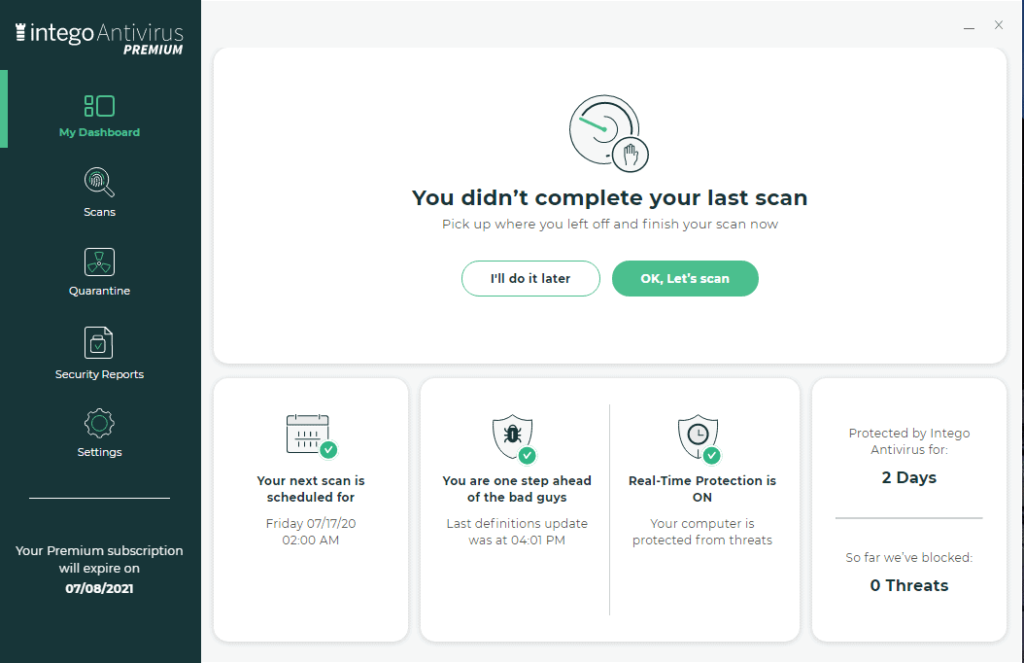 Intego Overview
Intego is a leading cybersecurity company that has been in the industry for over 20 years. The company has since won many awards from AV Test for their excellent antivirus software. Since Intego's inception, its antivirus platform has been a popular choice for Mac users.
The reason why Intego antivirus is so popular is that it provides a full range of protection and it's easy to set up & use. Since desktop users make up 87% of the market they remain a huge target for cybercriminals. That's why Intego is offering their services to Windows users so they can provide comprehensive protection for the large market of PC users.
Protect yourself from all cyber-threats with Intego Antivirus.
Product Review
Security Features
The Intego antivirus software has two cybersecurity protection features: VirusBarrier X9 and NetBarrier X9. Here's what these two security features can do for you:
VirusBarrier X9: This software has anti-phishing protection for Windows. Additionally, it automatically scans your PC and provides real-time blocking from malware, spyware, ransomware & adware. This software gives you 24/7 protection from cybercriminals.
NetBarrier X9: The NetBarrier X9 software is designed for home and portable devices. It has a two-way firewall that responds to incoming and outgoing network connections. This software protects your PC from unknown device connections and applications.
Compatibility
The Intego antivirus is compatible with macOS systems, iOS and Windows 7 & above. To install the Intego antivirus you must have 500mb free on your hard drive and 2GB of RAM. Additionally, you'll need an internet connection to install the software.
Intego Product Features
PC Clean Ups and Scans
The Intego antivirus keeps your PC clean by scanning files as you access them. This feature ensures that no malware can access your PC through apps, downloaded documents or files on hard drives. Here is a list of scanning options Intego offers:
Auto virus scanning
Manual virus scanning
Scheduled scanning
What's more, the software works 24/7 so that your PC is always protected from threats. There are also two scanning speeds to select: quick and full. The quick scan takes about three minutes to complete because it simply inspects smaller files. Intego's full scan option will do a complete inspection of your PC and take about 15 minutes.
Automatic Real-Time Updates
In the cybercriminal world, new threats are developed regularly and used to try & infiltrate PC devices. That's why Intego has automatic real-time updates so your software is always one step ahead of hackers. So no matter what new risks are created Intego is able to protect you from them.
Types of Threats Intego Protects You From
Some antivirus software doesn't protect you from all threats. Fortunately, Intego antivirus protects your PC from the following viruses:
Spyware
Trojan
Rootkit
Worm
Spam
Phishing
Parental Control
Intego antivirus has software called Content Barrier designed for parent control. Content Barrier allows parents to put restrictions on content they don't want children to access. Furthermore, this feature gives parents control of the time children spend on devices. The settings are customizable so you can set up Content Barrier the way you want to.
Personal Back Up Feature
The Intego personal back up feature allows you to automatically back up files and important information. This backup feature is scheduled so you don't have to manually save your files.
Tune-Up Tool
Intego's tune-up tool assists with optimizing your PC's system by managing the device through troubleshoots, configurations and maintenance.
Full-Featured Firewall
All the packages that Intego offers have a full-featured firewall to protect your PC from incoming and outgoing network traffic. It's a strong barrier that allows you to browse online safely because it blocks viruses from entering your system through an open network.
The Intego personal firewall provides protection from outside cyber-attacks and shields your PC from unnecessary network traffic.
Pros
Has a personal firewall feature
Excellent for non-tech savvy people
Offers customizable settings
All packages come with VirusBarrier and NetBarrier
100% antivirus detection
Ultra fast with low PC resource consumption
Quick scan to clean your PC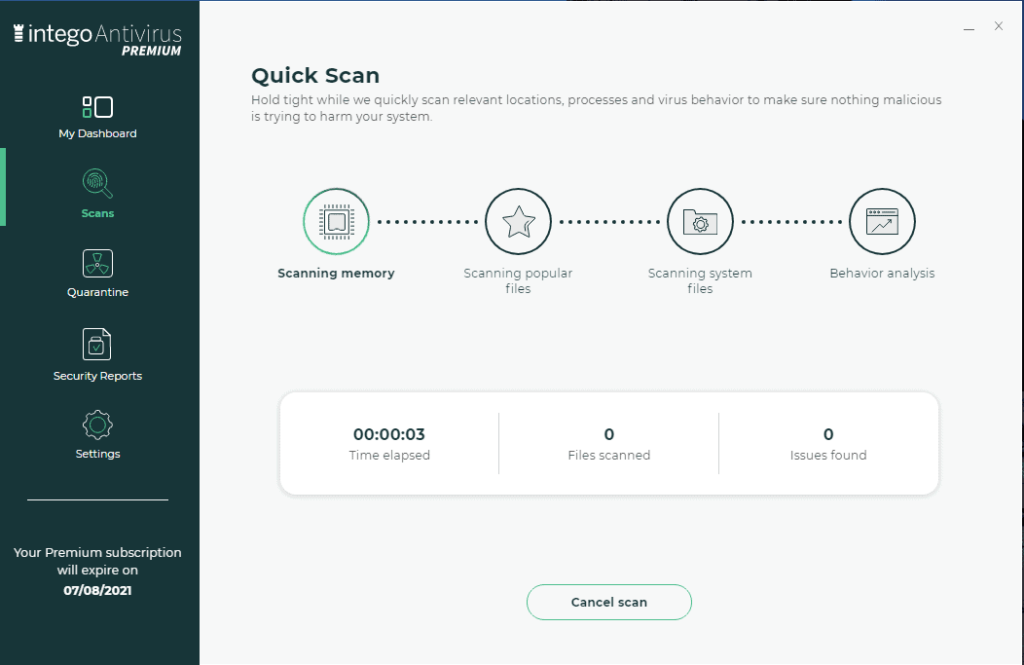 Cons
Doesn't offer chat or IM protection
No browser extension
Final Words
The Intego antivirus software is a World-class antivirus detection engine. It protects your PC from threats that are hidden that other antivirus platforms are unable to detect. This antivirus software is extra fast and is suitable for people who aren't tech-savvy.
Intego's user-friendly interface allows you to customize your settings easily and you can select your scanning options.
Overall, even though Intego is a brand new antivirus that's recently been launched for PC users, it's a reliable platform. It includes all the security features you need to keep your PC clean from viruses and cybercriminals.