Bitdefender Antivirus
Anyone who doesn't have antivirus software on their internet operating device is at high risk of a cybersecurity breach. Without proper antivirus, hackers can stealyour personal information and hold your digital data for ransom. Bitdefender is an antivirus software that can protect you from cyber threats.
Today we'll be giving you a comprehensive guide on all the features Bitdefender can offer you. If you're serious about cybersecurity then continue reading. You'll find that Bitdefender is an excellent choice when looking for an antivirus to integrate on all your digital devices.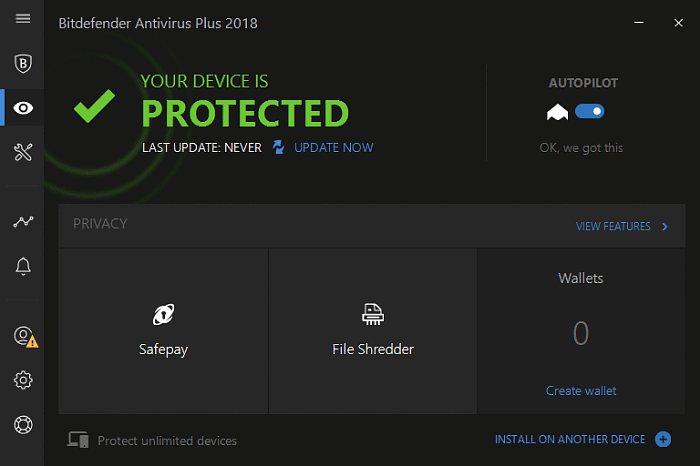 Bitdefender Overview
Bitdefender is an antivirus software that was developed in Romania in 2001. The cybersecurity company provides antivirus software, internet security software and endpoint security software for home and corporate use. This antivirus is suitable to use for small businesses and enterprises to protect devices from online threats.
The Bitdefender platform protects your digital internet device from many types of viruses such as Trojans, spyware, worms and more. Additionally, Bitdefender offers mobile antivirus software for iOS and Android users.
Bitdefender is one of the most feature rich antivirus platforms on the market. The Bitdefender software will add an impenetrable shield on your digital devices so you're always protected from potential cyber threats.
Product Review
Security Features
The Bitdefender software has three security protection plans for you to pick from:
Total Security: Protects up to five devices
Internet Security: Protects up to three devices
Antivirus plus: Protects up to three devices
These three Bitdefender security plans allow you to browse the web anonymously and you get unlimited encrypted traffic. Use any three of these security plans to create a secure Wi-Fi hotspot for your mobile device or laptop.
Compatibility
Bitdefender is compatible with Windows, iOS and Android devices. To set up Bitdefender on a Windows device you must have 2GB of RAM and 2.5GB of available disc space. For Android users, you must have Android 5.0 or later and 1GB of free space. To install Bitdefender on iOS you must have iOS 11.2 or later and an active internet connection.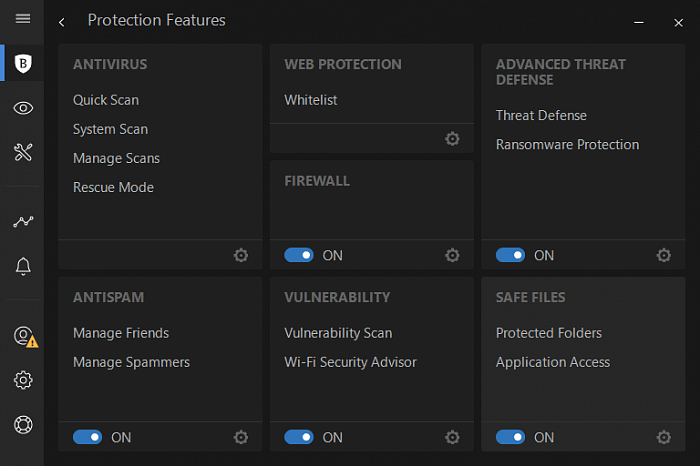 Bitdefender Antivirus Features
Real-Time Data Protection
Bitdefender continuously scans your device and provides real-time protection against cyber threats. All-access files are scanned as well as e-mail messages for phishing scams and malware. The real-time protection setting doesn't slow downyour device's performance when shielding it against threats.
Device Optimizer
The Bitdefender system optimizer allows you to scan, detect and remove files that are useless and that are simply slowing down the performance of your device. This scan provides privacy clean ups and detects and removes junkware off of your device to optimize its performance.
Privacy Firewall
Bitdefender has an excellent firewall that shields your device from threats that could compromise your digital device when you browse the internet. You have complete control over the management of your firewall. Simply access Bitdefender's settings to manage the controls of your firewall.
Parental Control
If you have children that use internet devices then you may want to opt for a Bitdefender package with parental control. This software has artificial intelligence that will assist with the following:
Block out sensitive content that's not suitable for children
Detect and block cyberbullying
Manage your child's screen time
Track your child's location
Detect online predators
The Bitdefender parental control feature allows you to have control over your children's activity online. You'll receive real-time alerts if your child experiences verbal attacks or has access to sensitive information on the internet.
Multi-Layer Ransomware Protection
Ransomware is when a hacker accesses your files on your devices and locks them so you can't view, edit or delete them. The Hacker will hold your files for ransom. Fortunately, Bitdefender offers multi-layer ransomware protection that will identify and alert you whenever ransomware attempts to encrypt your files.
The way this works is Bitdefender will automatically back up the files that are being breached. Then the software will remove the malware and restore the backed up files once the virus has been deleted.
Anti-Theft
There's an anti-theft feature that Bitdefender offers that allows you to find stolendevices. This feature allows you to lock your device remotely or wipe it clean so thieves can't access your sensitive information.
What's more, your mobile device can take a snapshot of anyone who tries to tamper with your phone and emails you the image so you can identify the criminal.
Pros
Protects you against phishing
Easy to set up
Offers advanced threat defense
Provides real-time alerts
Has secure browsing feature
Automated scanning
Cons
Poor quality password manager
Firewall protection doesn't come with all the packages
Final Thoughts
As you can see Bitdefender offers solid spyware and virus protection on laptops, SmartPhones and PCs. What's more, Bitdefender protects your devices from rootkits and zero-day exploits. This antivirus software is perfect for corporate companies and for parents who want to protect their children from online threats
So if you want an affordable antivirus that's feature rich and easy to set up then Bitdefender will be the ideal choice for you.
Don't compromise on your cybersecurity. Take extra precautionary measures and get your Bitdefender package so you're always protected against cyber viruses.