Airo
Introduction
Airo is one of the newer Mac antivirus companies in the security industry that wants to do away with the notion that Macs are more secure than Windows. With a steep increase in malware in macOS and macOS X, Airo wants to offer best in class antivirus support for the platform. Instead of opting for an all-in-one approach, the brand actively monitors for the latest malware in macOS and protects users from them.
In the past few years, Airo has managed to make a name for itself in the security industry by offering top-notch protection. Their state-of-the-art malware protection is one of the few antivirus solutions available that is 100% effective at keeping macOS malware away. If you are looking for an antivirus solution that specifically caters to macOS user, Airo is the one.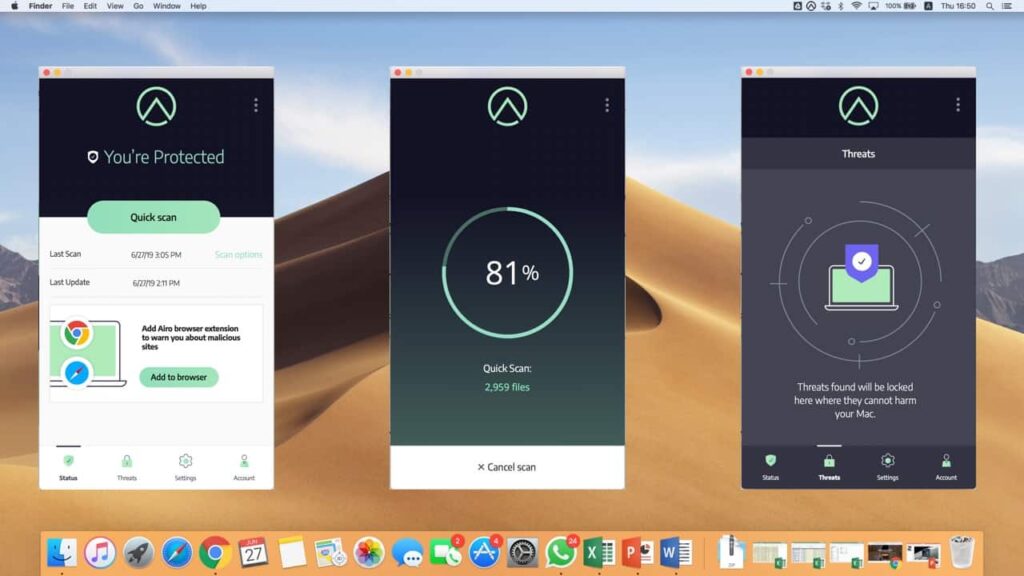 Protection
Real-Time Threat Detection: Airo is capable of scanning websites and files on your macOS devices as well as your browsing activity to immediately spot any malicious threats. Phishing scams that want to steal your sensitive data or steal your personal information are instantly thwarted. It also prevents any remote connections that want to sneak into your computer for stealing information.
AI Technology: macOS is not as secure as it used to be and Airo antivirus wants to keep you save using its AI technology. The antivirus actively collects data and scans for any malicious activity without stressing your system resources. Instead of relying solely on a list of malware that is known to security companies, it identifies activity patterns shown by most malware to identify the latest malicious programs. The AI is highly accurate and manages to keep users one step ahead of malware.
Quarantine: Airo does not automatically delete any suspicious files that are spotted on your computer. Instead, it relies on its proprietary quarantine system to render the files useless. Users can manually check the warnings displayed by the antivirus and safely remove the files without being affected. The quarantine system is perfect for situations where files are incorrectly flagged by antivirus programs.
Airo Web Guardian: Instead of scanning just files on your system, it also monitors your web activity to ensure you safe from phishing campaigns and malicious websites. There is a constantly updated list of malicious websites on the Airo servers and the Web Guardian feature syncs itself to ensure all of the latest threats are accounted for.
Lightweight Monitoring: Unlike other antivirus solutions which can be quite aggressive on system resources, Airo AV does not stress your systems whether you are working or leave your Mac OS device idle. The software is very lightweight and despite it constantly monitoring for malware, you will not see any hits to your day to day performance.
Crypto-Malware Protection: One of the most dangerous forms of malware is crypto miners While they might not be "malicious" in the sense that they steal your data or infect your files, they lead to a spike in CPU and GPU usage. By using your system resources, cryptocurrency is mined by the creators of these mining programs. While some mining programs are voluntary, whenever developers implement them without consent, they fall under the category of malware.
Compatibility
Mac OS OS X El Capitan (10.11) and higher
Pricing –
There are three major antivirus plans available from Airo which includes single, pro and family suites. There are no compromises across any of the plans and regardless of whether you buy a single license copy or a multi-license copy, you get the same quality of features. This is great because of many other antivirus companies like to paywall users behind the highest subscription tiers.
Airo Single Suite :
This plan is designed for a single system. You get access to all of the standard features for your personal MacBook or iMac. If you do not own multiple devices to take advantage of the most cost-effective plans, this is the best plan you can get.
Airo Pro Suite :
The second-tier plan is designed for those looking for a single subscription for multiple Mac devices. You pay a small fee on top of the single suite and get a protection package for three devices. Everything from the professional customer support to real-time monitoring is available in the package.
Airo Family Suite :
The Family Suite is Airo's highest tier plan that supports five devices at the same time. You simply need to get one subscription plan and you will be able to install it on 5 iMacs or MacBook devices. If you want the most cost-effective solution for your system, this is the plan to go for.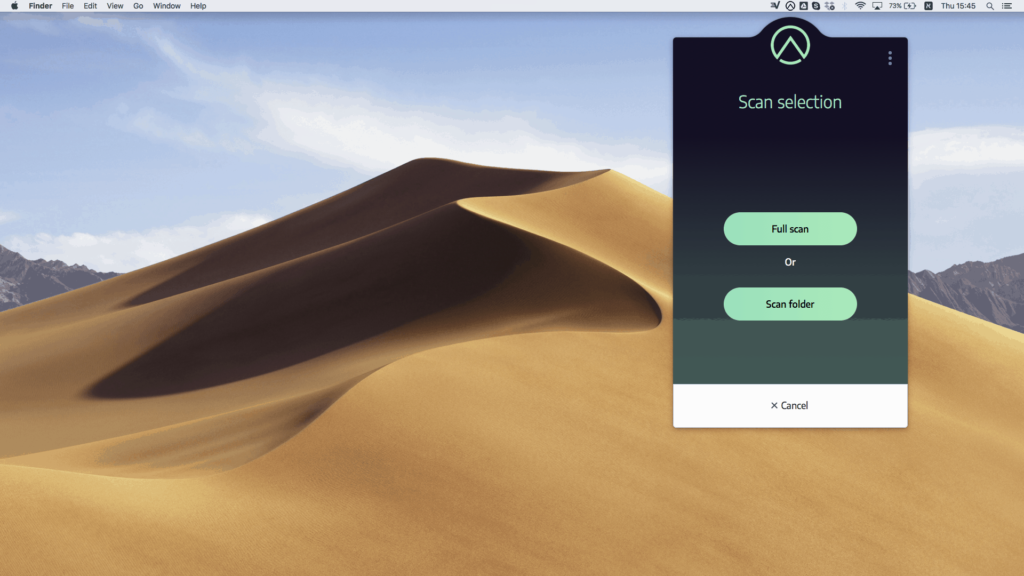 Downsides
No Monthly Plans: The smallest subscription plan you can get from Airo is at least a year long. There are no monthly or bi-annual plans available. However, if you are looking for a trial version of the software, one is available at no cost. You can check out all of the features that are on offer from the program and decide for yourself if you want to invest in the antivirus program or not.
No Direct Call Support: There is no direct call support available from the support team of Airo AV. However, the ticket system is highly effective and you get very quick responses. With the professionals in the support team at Airo being Apple Certified Professionals, you will have no trouble getting quality assistance from them.
Conclusion
With macOS seeing a sharp increase in malware and data theft incidents, it is important to invest in an antivirus solution to keep yourself safe which makes Airo AV is one of the best antivirus solutions available for macOS right now. The brand has made a name for itself in a very short time thanks to its constantly updated database of online threats.
If you want a reliable antivirus program that is capable of dealing with the most dangerous threats and also keeping your network activity protected, Airo is a no-brainer. Their Family Suite is one of the most value for money antivirus packages out there for users who have multiple systems at home.