Surfshark Antivirus
Approximately 49.8 million households have paid antivirus software to safeguard their devices from cybercriminals. The purpose of an antivirus platform is to prevent or deter and protect your device from harmful viruses designed to steal your personal information.
One of the platforms making headway in the industry is Surfshark antivirus. While the brand specializes in a high-end VPN platform it also offers strong antivirus software to improve your device's security. In this review, we take a look at the most important features of Surfshark's antivirus software so you can decide if this is the right platform for your needs.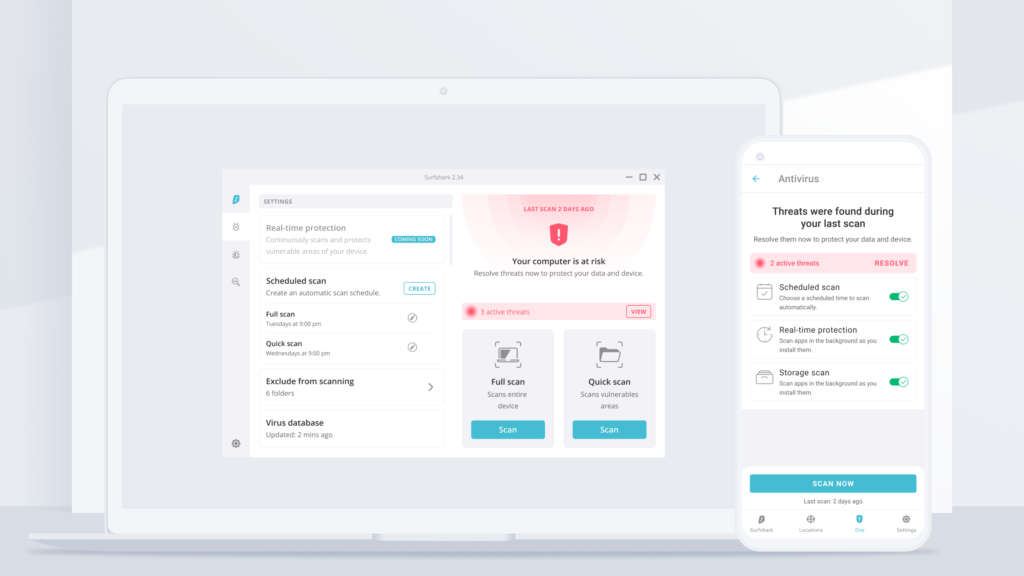 Surfshark Antivirus Overview
Although Surfshark is a leading company in the VPN market the company's antivirus software is fairly new. The company introduced their new antivirus platform in a blog back in August 2021 so it's not even a year old yet. However, Surfshark antivirus is fast becoming popular because of its extensive features.
It's an antivirus tool specifically designed for Android and Windows users but will soon be available to macOS. What makes Surfshark antivirus unique is that it allows you to exclude files and folders from scans. This allows you to customize your scans to optimize scanning speed.
Surfshark Antivirus Product Review
Security Features
Surfshark antivirus has all-around security features which includes a VPN that keeps your data private while you search the internet. It also has a safe search engine and optimal data breach monitoring. Although Surfshark antivirus doesn't have a firewall feature it fully protects your data from breaches.
Compatibility
Since the Surfshark antivirus is new it's only available for Android and Windows users. However, the company has stated that they are going to make the platform available for macOS users soon. There isn't a mention of it being available for iOS yet.
The platform is compatible with various types of devices such as smartphones, tablets, PCs and laptops as long as they have a Windows or Android operating system. What's more, Surfshark antivirus allows you to connect up to 5 devices to one account. So have the option of protecting the majority of the devices in your home from malicious malware.
Surfshark Antivirus Features
Real-Time Protection
For Android users, Surfshark antivirus offers real-time protection which monitors your device at all times. This is an excellent feature for smartphone users since they travel with their devices which puts them at a higher risk. The Surfshark antivirus will run in the background at all times to detect malicious threats immediately.
This feature isn't available for Windows users yet but the company has mentioned that they're working on providing real-time protection for this operating system soon.
Scheduled Scans
Surfshark antivirus includes an option to schedule your scans. This feature allows you to exclude certain files and folders from the scanning process. You can decide which folders to scan and when you want them to be scanned. Run the scans at a time that's convenient for you.
Detects and Destroys Viruses
The main purpose of an antivirus program is to detect and remove malware. Surfshark antivirus uses a fast detection engine that uses minimal system resources. This means that it won't put strain on your PC or smartphone while scans are running. The type of viruses Surfshark can detect and remove include:
Worms
Trojans
Macro viruses
Backdoors
The Surfshark antivirus platform uses a heuristic detection to look for codes similar to the ones found in common computer viruses. According to the Surfshark website, this helps detect polymorphic viruses that evolve over time.
Surfshark antivirus works closely with the Clean Web feature on its VPN platform to deter malware that filters through web downloads.
Surfshark Search and Alert
Along with the antivirus features, Surfshark also has a safe search engine that you can use. It's an ad-free and lightweight engine that shows organic results without tracking your online activity. The search engine comes with the VPN but it's the Alert feature that works hand-in-hand with it.
Surfshark Alert is a data breach feature that immediately alerts you if a virus has slipped through the cracks while you're searching online. This is what most antivirus companies call Data Breach Monitoring.
With the Alert feature, you can customize how often you want to be sent reports. You can set it to every time a data breach has occurred or only when your accounts are affected. With this feature you can:
Scan IDs
Check settings
Monitor emails (especially for phishing scams)
Scan credit cards for malicious activity
Surfshark Antivirus Support
One of the reasons the Surfshark antivirus platform is growing momentum is because of its excellent customer support. The company's website features a help centre that has information based on common issues. There are also extensive video tutorials that teach you all about Surfshark and its products.
On the other hand, if you need assistance directly from customer support you can send their team an email. They also have a 24/7 live chat feature for customers that need immediate assistance.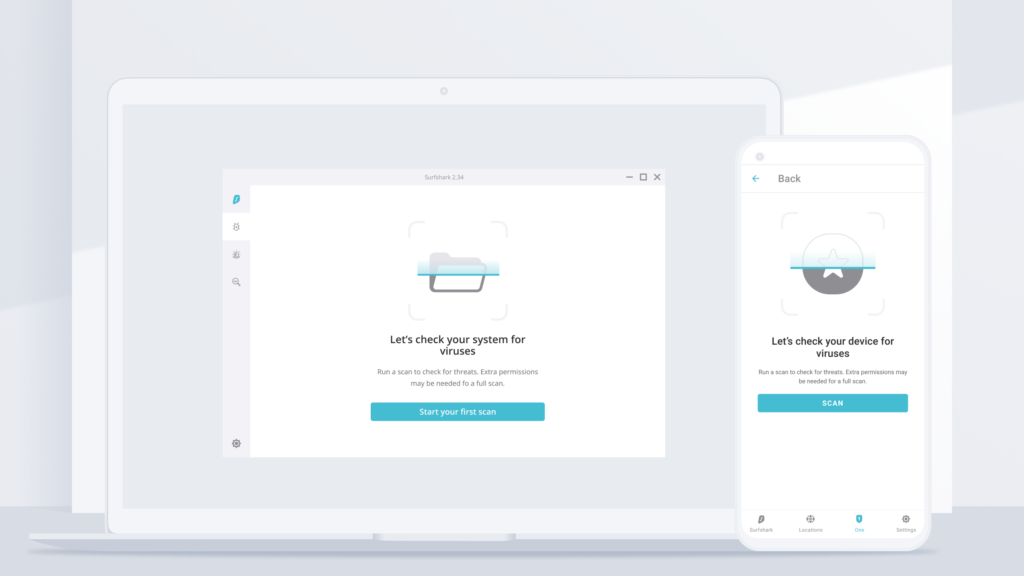 Main Features
Surfshark Antivirus is a fast-growing cybersecurity program that stops viruses in their tracks. It has extensive security features and apps for Android and Windows.
CleanWeb feature
24/7 Support
30-day money-back guarantee
WireGuard Protocol
Split tunnelling
Data breach monitoring
Comes in a bundle with a VPN
Pros
Affordable
User-friendly interface
Provides real-time scanning
Included in the VPN package
Doesn't slow down your PC
Cons
Scanning may take longer
No firewall feature
Final Thoughts
This antivirus is one of the tools featured in the Surfshark One bundle. This bundle features four extensive cybersecurity tools such as VPN, antivirus, data leak protection and a private search engine under one subscription. It's an affordable package that allows you to add extensive cyber protection on your PC, smartphone, laptop or tablet.
Although the Surfshark antivirus is new there is plenty of opportunity for the platform to be improved by its developers. There is real-time protection in the works for the antivirus as well as a platform for macOS users. The Surfshark antivirus is worth trying. Refer to this review to decide whether this antivirus software is suitable for your cybersecurity needs.