McAfee
McAfee was founded in 1987, and the security software company has always upheld its reputation as one of the leading brands when it comes to offering antivirus solutions. The brand is trusted globally, and it is available on a large number of platforms and devices including smart TVs. From iPhones to Android devices, no matter what platform you are on you can expect quality antivirus solutions from McAfee.
McAfee Antivirus is also known to be one of the simplest antivirus solutions to use, making it ideal even for users who are not extremely adept at using computers. All features are enabled and pre-configured for users to simplify usage for beginners. The software comes with parental controls, firewall protection, scheduled scans and more to help users keep their systems secure. McAfee has been at the helm of online security globally and the security software company shows no signs of slowing down with its latest software.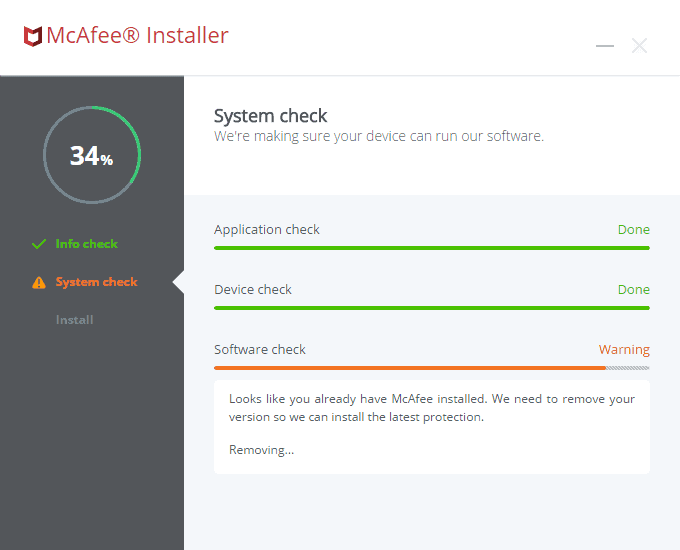 Protection
Vulnerability Scanner
This is the most important feature in any security software. The antivirus will actively search for any malicious files and quarantine them before they can be executed. The software also scans for vulnerable or outdated applications that could potentially allow cybercriminals to inject malicious files to your system. McAfee also updates all system drivers automatically to ensure you are not left vulnerable to attacks due to unpatched drivers.
Personal Firewall
McAfee's customized protection is capable of guarding you against any online threats, and you can customize the amount of protection it offers. From controlling network access to monitor any information that travels on your network to blocking suspicious traffic, McAfee antivirus is well-equipped to deal with any threat.
Anti-Spam Protection
McAfee's anti-spam protection is capable of protecting users from spam and phishing attacks. The software scans your emails for phishing attacks and prevents unsolicited emails from entering your inbox. McAfee also prevents spyware from infecting your systems or sharing data without consent.
Site Advisor
The antivirus comes with a Site Advisor feature that ensures you have a safe online experience. Users are alerted whenever they visit a dangerous website and are warned about potential risks associated with malicious websites. You can refer to McAfee's scores to see which websites are safe to visit to avoid risking yourself to malicious websites and phishing attacks.
Parental Controls
Users have full control over what content is accessible to family members when using McAfee. You can allow or block websites and have safe search filters in place to block inappropriate content. Users can also set-up schedules to restrict online activity for children and log all browsing data.
Compatibility
Microsoft Windows 10, 8.1, 8, and 7 SP1 (32- and 64-bit)
Mac OS X 10.12 or later
Google Android smartphones and tablets 4.1 or higher
Apple iOS 10 or later
Pricing
McAfee Total Protection offers complete protection from all kinds of vulnerabilities. In case your PC gets infected, McAfee has a 'Virus Protection Pledge' for all its Total Protection plans to ensure 100% virus removal. McAfee engineers will personally access your system remotely and remove any kinds of malicious program from your system. In case they fail to do so, users are offered a full refund. However, the 'Virus Protection Pledge' is available to users who have auto-renewal enabled only.
Technical Support
When it comes to technical support, McAfee offers a number of contact options, and there are dedicated support packages available as well for enterprise users. You can get in touch with the company's professional staff via phone, email or chat. There is a FAQs section available in case users want to find solutions to some of the most commonly faced problems.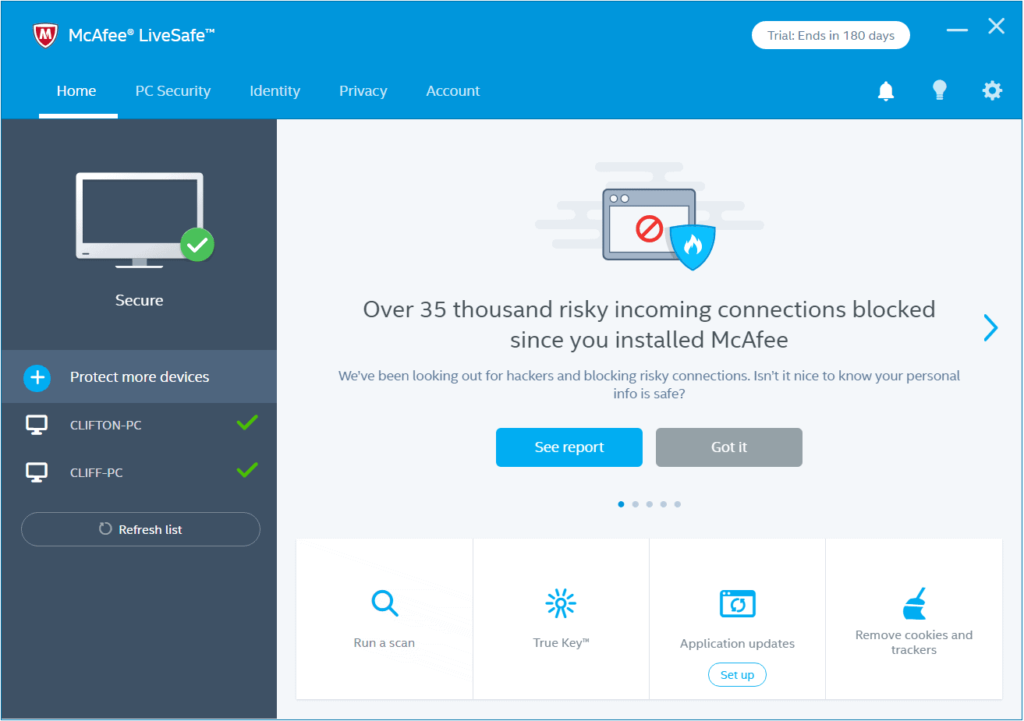 Downsides
Resource Hungry: When compared to other antivirus solutions that are available in the market currently, McAfee's offering can seem very resource hungry. While users with high-end computers may not be affected, a large number of users will notice a slight dip in performance with the antivirus installed.
Expensive: McAfee Antivirus is quite expensive without offers, especially when you compare it to other antivirus solution providers who offer similar features at lower prices.
Conclusion
When it comes to user experience and reliability, there are no complaints whatsoever. You get 100% protection using McAfee for not only your computer but also other devices that you own. With a no strings attached 30-day money back guarantee available to all users, users looking for quality antivirus solutions should definitely try it out. The premium pricing over other antivirus solutions is worth it because of the large number of features that McAfee has to offer and its stellar service over the years.