Kaspersky
According to cybersecurity statistics, over 2200 computers are hacked per day. This equates to over 800,000 people being hacked every year. The only way to protect your computer from cyber-attacks is by using a secure antivirus. The most talked-about antivirus software for 2022 is Kaspersky.
One of the perks of Kaspersky antivirus is that it's developed for both Mac and PC users. Kaspersky antivirus is a feature-rich software that offers extensive cybersecurity for home and business use. But is this antivirus worth the hype and is it affordable?
Find out more about what this antivirus has to offer by reading our review. We've provided detailed information on features, security and prices. There's also information on support and pros and cons so you can decide if this is the right antivirus for your cybersecurity needs.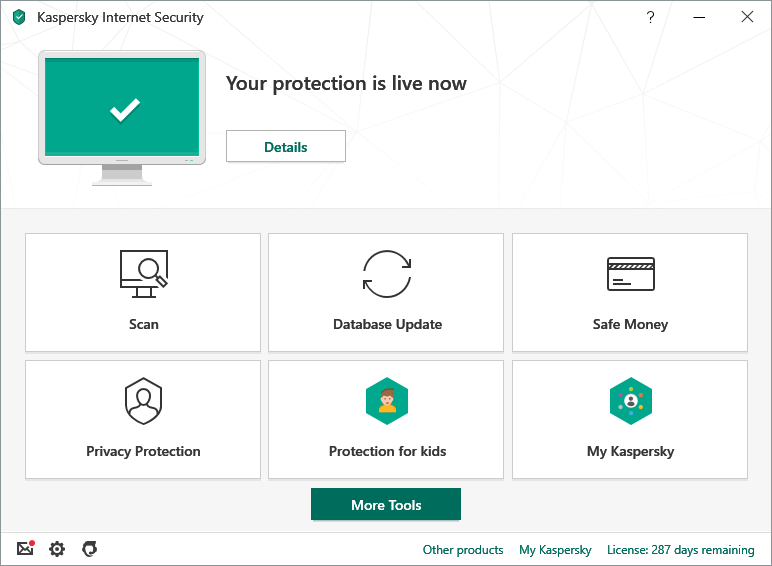 Kaspersky Antivirus Overview
Kaspersky is proprietary software developed by Kaspersky Lab which is a Russian multinational cybersecurity company. The Kaspersky Lab's headquarters are located in Moscow.
The software was formerly known as Antiviral Toolkit Pro. Its initial release was way back in 1997 but its stable release date was October 2019. The antivirus software is primarily designed for macOS and Windows users but there is also a version available for Linux.
Kaspersky's antivirus software focuses on protecting Mac and PC users from malware, phishing, and prevents data breaches.
Kaspersky Antivirus Product Review
Security Features
Mac and PC users need extensive security and Kaspersky doesn't disappoint with their security features. Kaspersky antivirus has an On-Screen Keyboard protection feature that protects personal data from interception attempts.
Additionally, this platform protects your data when you connect to an unsecure Wi-Fi connection. Another premium feature that Kaspersky's Total Security and Internet Security plans offer is Safe Money. This feature secures your personal information when making an online payment.
Kaspersky also has a privacy protection feature that will alert you if anyone is trying to collect your data. The Privacy Protection feature has a setting that blocks external access to your webcam.
Compatibility
As mentioned before, Kaspersky antivirus is designed for Mac and PC users as well as Linux. The antivirus software can also be installed on Apple or Android SmartPhones, tablets or laptops. This means that you can protect all your devices with one account. According to the Kaspersky Support page, you can connect up to 500 devices on your account.
Kaspersky Antivirus Features
Anti-Hacking
The network attack and ransomware blocker prevent cybercriminals from hacking your network and intercepting your data. This feature also protects your device when you're connected to an unsecure Wi-Fi connection.
Real-Time Protection
Kaspersky antivirus has real-time protection that safeguards you from common threats such as pharming and worms. The platform also protects you from complex threats such as rootkits, botnets and rogues.
Anti-Malware
The Kaspersky software finds and removes threats from your Mac or PC device such as adware, spyware, XSS attacks and keyloggers. Kaspersky antivirus even detects threats that are difficult to find such as trojans.
Anti-Phishing
Kaspersky's anti-phishing feature checks URLs to find out if they are phishing Uniform Resource Locators. If the URL is unsafe Kaspersky will block it to protect your system. However, this feature is built into the Web-Antivirus plan and the IM Anti-Virus.
IM-Antivirus
The Kaspersky IM-Antivirus feature ensures the safe use of IM clients. This feature protects information coming into your computer by IM protocols. The IM-Antivirus makes sure that you have safe operations on various platforms including messengers.
System Watcher
Kaspersky antivirus has a System Watcher feature that protects your PC or Mac against malware such as screen lockers, encryptors or ransomware that blocks access to your own files. Kaspersky recommends that you don't disable this feature as it's the most important one on the platform.
Mail Antivirus
The Mail Antivirus feature scans incoming and outgoing mails on your Mac or PC device. This ensures that all emails are virus-free before they're sent or received. You'll be notified of any malicious objects found in any incoming or outgoing mails.
Kaspersky Antivirus Support
On the Kaspersky antivirus website, there are two support channels: Business and Home & Mobile. In these support channels, you can troubleshoot the antivirus platform, check the user guide and get answers to frequently asked questions.
The Kaspersky antivirus platform also has a Community page where you can get support from users and experts. However, if you want direct assistance from the Kaspersky team you can email them which has a 24-hour turnaround time on responses.
Furthermore, there's a virtual assistant if you want instant answers or you can contact remote assistance which is available 24/7 for business users. There's also a chat system with a 6 minute answer time or you can phone with an average answer time of 12 minutes.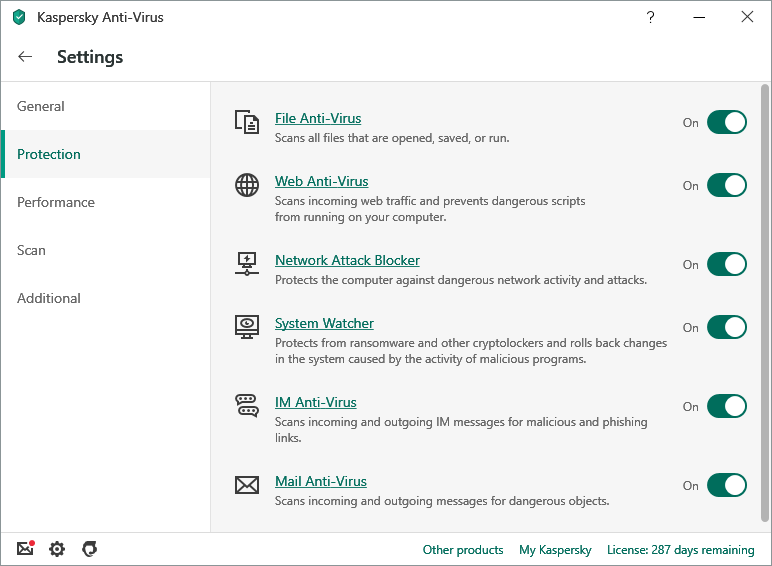 Main Features
Kaspersky antivirus safeguards your devices with industry-leading protection against evolving threats. It provides the ultimate cybersecurity for both Mac and PC users:
24/7 support
Has Full Disk Encryption (FDE)
Connects up to 500 devices
100% perfect detection rate
Real-time protection
On-demand malware scan
Pros
Tested by four independent labs
Excellent security features
Affordable plans
Has packages for business and home use
Excellent support
Cons
Doesn't have a firewall
Identity theft protection is only available for higher plans
Final Thoughts
The Kaspersky antivirus is one of the most feature-rich platforms we've reviewed so far. This platform has extensive security features and top-notch support. Additionally, Kaspersky offers inexpensive multidevice and multi-year subscriptions. The platform has behavior-based detection to alert you of any suspicious activity on your device.
So if you're looking for a comprehensive antivirus software that provides industry-leading protection against cyber threats, Kaspersky will be an excellent choice. Read through the review we've provided to check what features this antivirus provides.