Heimdal
The antivirus market is extremely competitive, and Heimdal is one of the brands that manage to stand out with its security software. Unlike traditional antivirus programs, Heimdal seeks to improve already existing free and paid security solutions.
Heimdal is capable of monitoring your system for any kind of malicious activity and protects you from external attacks. All of your applications are constantly monitored to ensure they are updated at all times. One of the biggest weaknesses of computers is outdated software, and Heimdal ensures that you have up to date applications with the latest security patches available.
Heimdal's second-generation malware detection capabilities are unparalleled. It can restrict malware from installing on your system, unlike other software that detect vulnerabilities after a system is compromised. Heimdal caters to both home and business users with its myriad of plans to choose from.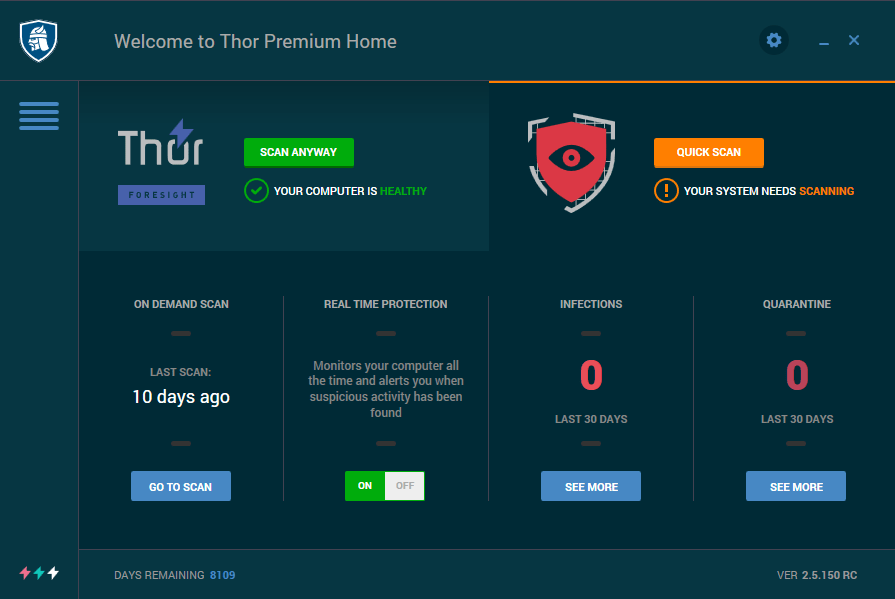 Protection
While traditional antivirus solutions serve as reactive solutions to problems, Heimdal takes a more direct approach. Its VectorN Detection mechanism detects and prevents infections autonomously. There is no user action needed to keep malware and other malicious programs away for good.
He patented threat detection looks for any hidden malware that your primary antivirus program may have missed. If any threats are detected, they are immediately blocked before user data is compromised at your end.
Heimdal comes with its own Software Manager that works separately from your own antivirus solution. The software automatically updates any vulnerable software that you may have on your system. If you do not want to have apps updating automatically, you can set it up for manual updates as well.
DarkLayer Guard
Heimdal's proprietary DarkLayer guard is capable of detecting threats at DNS, HTTP, HTTPS layers, before they reach a user's system. All incoming and outgoing communication with malicious servers is blocked.
Behavior-Based Scanning
Heimdal is capable of monitoring all active processes on a system. Any kind of suspicious behavior will trigger the software to stop external attacks from modifying system data.
Firewall
Heimdal's Thor Firewall offers an added level of protection over your Windows Firewall. Your network data is kept safe by the software even from the most persistent and advanced threats. Even if malicious software tries to block your Windows Firewall, Heimdal will prevent it.
Multi-Level Blocking
Heimdal is capable of blocking all known threat types including malware, ransomware, spyware, data exploits and APTs from all sources.
Heimdal's technology is powered by the solution provider's knowledge of cyber-criminal infrastructure. Data leakage and botnet enrollment are where the software excels at. With Heimdal installed, you do not have to worry about hackers trying to install exploit kits on your system as all such attempts will be blocked immediately.
Compatibility
Heimdal's security offerings are meant for Windows systems only.
Windows 7 (32 and 64 bit)
Windows 8 (32 and 64 bit)
Windows 8.1 (32 and 64 bit)
Windows 10 (32 and 64 bit)
Pricing:
There are three primary plans available from Heimdal for Home users while Enterprise plans are fully customizable. Enterprise users can contact Heimdal to receive quotes on their personalized packages as the company does not offer a one-size fits all approach.
Thor Vigilance Home
This is Heimdal's most basic plan, and it offers standard protection features like local signature-based scanning to detect malware and firewall features. To receive data exploit protection or APTs protection you will need to upgrade your plan.
Local Signature-based Scanning
Real-Time Cloud Scanning
Sandbox and Backdoor Inspection
Firewall
Starts at $59.95
Thor Foresight Home
Thor Foresight Home is Heimdal's offering for users who want more intricate security on their systems. It is fully compatible with all existing security products and is capable of detecting threats before they have any impact on a user's system.
Unique threat prevention to stop various types of malware, data exploits, and APTs
Constantly updated database to close all security holes
100% compatible with all security products
Starts at $69.95
Thor Premium Home
Heimdal's premium package for home users comes with advanced threat prevention tools developed by the company. It scans your system for any kind of suspicious behavior and alerts you whenever any suspicious activity takes place.
Proprietary Threat Prevention Tools
Automated Database Updates
Heuristic and Behavior-Based Scanning
Persistent Firewall
Starts at $99.95
Technical Support
Heimdal's customer service is fully reliant on its ticket-based system. Customer service professionals are available round the clock to answer any queries that users might have. There are no complaints when it comes to responsive communication and support is just great overall.
Users are guaranteed responses within 24 hours which makes it easy for users to find solutions quickly. There is a large number of FAQs and guides to help users out as well. The guides on the website guide users through the most common problems you may face when using the software.
Additional Features
IOC and IOA intelligence for threat-hunting: Heimdal actively looks for threats that may be present in the wild and blocks them before it affects users.
Real-time Cloud Scanning: Heimdal is equipped to secure not only the files located on your system but also files you have stored via cloud storage services.
Backdoor Inspection: The feature allows Heimdal to look for any exploitable backdoors in your system and prevents malicious attacks from cybercriminals.
Exploit Kit Blocking: The software is capable of identifying exploit kits when they are downloaded to your system and blocks them before they are launched.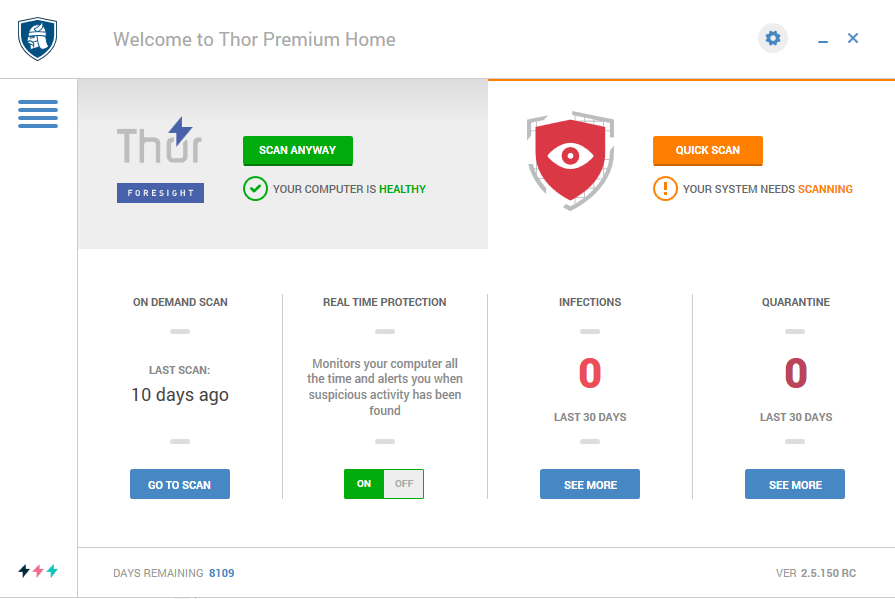 Downsides
Not enough support channels: Users are forced to rely on the ticket-based system and there are no means of getting in touch with Heimdal's support staff via phone or live chat.
Needs existing antivirus solutions: Heimdal requires users to have an installed antivirus solution (free or paid) to work.
Complicated features: Taking full advantage of what Heimdal has to offer requires technical expertise. It is catered to experienced users who know the ins and outs of security software.
Conclusion
Heimdal can help improve the quality of your existing free or paid antivirus solutions extensively. The developers have put in the effort to ensure the software is compatible with all major antivirus solutions available out there. The malware and exploit databases are constantly updated to ensure users are protected at all times.
Despite being a comparatively new antivirus provider, Heimdal is highly effective and dealing with the most advanced security threats out there. A large number of available plans and rich feature pool make Heimdal a trusted security solution provider.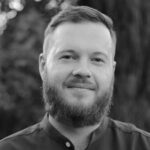 As a trained and experienced software developer, he can quickly identify quality,user-friendly apps and programs among the mass of products available today.